Returning to Nature – "Rewilding"

Categories:
Returning to Nature – "Rewilding"
More and more research and evidence is reminding us that returning to Nature is very beneficial for our health and wellness. In his recent book entitled "Rewilding", author and director of Kripalu center for yoga and health in Stockbridge, MA,  Micah Mortali invites us to "shed the effects of over-civilization and explore an inner wisdom that is primal, ancient and profound". For hundreds of thousands of years, humans lived intimately with the earth. We were in the wild and of the wild. Today, we live mostly urban lives – and our vital wildness has gone dormant. As a result, we're more isolated, unhealthy, anxious, and depressed than ever, and our planet has suffered alongside us.
"Rewilding is a return to our essential nature. It is an attempt to reclaim something of what we were before we used words like 'civilized' to define ourselves" – Micah Mortali
Much of the work I do involves helping people recover their deeper, authentic, true Self. Whether this is through counselling in my office, in the fields with the horses,  in meditation sessions, or in retreats to my northern 'Shangri-la', I believe it to be the central core of recovery. So much of this has to do with remembering our connection to nature and to all. It seems that we have forgotten this and so we suffer. Our minds create 'stories' and we live in the past or the future, isolated from or afraid of the now. Each moment is the only moment – each  moment is the last moment.
This year I will be bringing much of the Rewilding work into my practice and I invite those of you interested in reconnecting and rewilding, to contact me.
Here's to 2020 – May our vision be nothing but 2020 as we move forward across the rainbow bridge into our becoming
.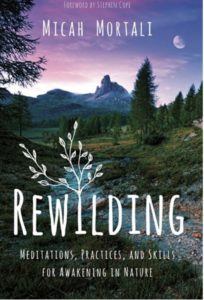 Latest Posts
Change the way you think and your world will change
By:
Lesley Hannell
April 14, 2022